Details
Melody Jupiter Ionizer- JP104
Jupiter Ionizers are of exceptionally high standard, with 25 years experience in water ionising business, the brand has built a worldwide reputation selling a range of quality Jupiter Ionisers to ensure a healthy diet that starts with the water you drink.
The Melody uses sophisticated self cleaning that means your water dispenses instantly with no delay., in practice delivering as much water as you need, exactly when you need it. Each time you dispense water the Melody undergoes self cleaning, keeping the Titanium Platinum plates clean of any scale build up.
Best Filtration
All Jupiter ionisers use the same unique 3 stage bio-stone filter. This incorporates far infrared mineral technology, with very fine 0.1 micron or extra fine 0.01 micron filtration, and a mineral booster. All of these features make these the safest and most effective pre-filters of any water ioniser. It is a snap to change – it is as easy as changing a battery - you simply order when the unit advises it requires changing and replace it yourself and so there are no on-going maintenance costs. With an annual replacement (typically) the running costs work out at less than 20 pence per day. Now that is value!
The Biostone Filter
The Melody passes the water through the Biostone Filter System. Biostone is a ceramic formed of the semi-precious mineral Tourmaline. Tourmaline naturally emits Far Infrared Energy (FIR) and changes the surface tension of the water, making it easier to process by the ionizer by beginning the negative ion creation process even before the water reached the ionisation chamber. This increases the antioxidant effect within the ionised water, without an accompanying increase in alkalinity.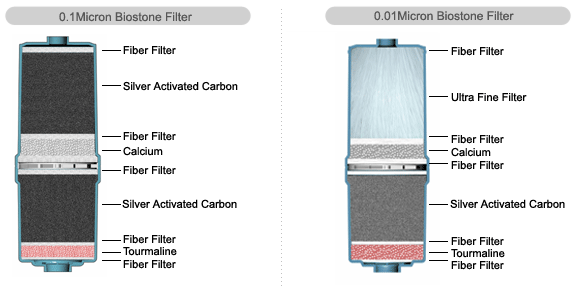 Tourmaline
Tourmaline has been researched and found to activate animal and plant metabolisms. The Biostone Tourmaline filter incorporates the very latest polymer ion separation technology, which is patented by Jupiter Science making Jupiter Science ionizers capable of some of the best range of pH and negative antioxidant ions of any system. BioStone filters are available in .1 micron and .01 micron forms. The .01 micron filters provide ten times finer filtration than the .1 micron filter and are recommended for well water supplies.
Installation
The Melody is the most flexible ioniser in the market for installation. It can be installed in any one of 3 ways, from the quickest 5 minute installation to a very neat undersink solution allowing for the use of a dedicated drinking water tap. The options are:
1) Connection to your existing tap spout via a diverter tap (supplied)
2) Connection to the mains water supply via a mains connection fitting (supplied)
3) Connection to the mains and dispensing through a separate drinking water tap (optional extra)
Highlights of the Jupiter Melody Water Ioniser
Super flexible installation options
5 plate water cell made of platinum/titanium
LCD filter use display
Efficient auto cleansing system which allows instant water delivery
A calcium port to allow for the addition of minerals to the water
Voice confirmation if desired to advise of the dispensed water pH
3 different installation options
Warranty: 1 Year
Auto stop when water is turned off
Post-operation Auto Cleanse System
Much more convenient design and operation compared to other manufacturers more expensive units
Comes with a choice of installation options.
Technical Specification
Temperature Control: Auto Shut off
Filter Replacement: Titanium
Power Consumption: .5A (110W)
Water Connection: Tap or mains
Weight: 4.5kg
Cleaning System: Auto & Manual
Electrolysis Strength: 9 settings
Dimensions: 265 x 145 x 328 mm
Inflow Pressure: .7-5kg/ccm
Filter Composition: 5-stage 0.01 micron
Inflow temperature: 5-30C
Electrolysis method: One Touch Auto Start
Output Water: Max 3 liters/min
Electrode materials: Platinum coated
Filter Usage Indicator: LED
Filter Life: Approx 9 months
The Melody has all the features of the Microlite JP107, with the following: * Automated water switching during self-cleansing. This means you don't need to wait a few seconds on start up * 5% improved alkalinity * Can be connected direct to mains, but this is not recommended by the manufacturer as under high pressure it can leak