Details
Keeping the head outside and cool while lying down is the optimal way to get the most benefits of far infrared heat with the least discomfort. Under the heat stress which is common in a sauna the regulation of internal body responses toward self-healing is maximized with the greatest degree of relaxation. Lying down in the dome sauna promotes distinct cardiovascular and neurological advantages. Lying down relieves the nervous system and cardiovascular system of the extra stress that is required to maintain an erect posture.
Lotus Dome Sauna features:
Very comfortable, covers entire body aside from our head
360° degree of FIR heat on the front & back of our body
Easy to set up, maintain and store
Portable and lightweight, can be carried anywhere & anytime
Premium quality element
ACF Technology - Active Carbon Fiber Heating Elements & Bio-Ceramic Heaters
Dome shape focuses the FIR energy, providing a complete 360° degree of FIR radiant heat
Reflects FIR energy w/frequencies that are body-friendly, 7-15 micron wavelength
Variable & adjustable control over temperature & time
Uses very little electricity
Compact and allows more effective exposure to Far Infrared Rays
Lying down is the most beneficial way to sauna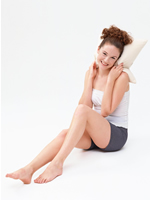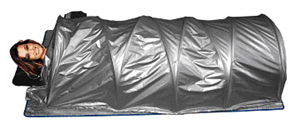 Specifications and Parts Identification
This system is composed of the following parts: silver nylon cover, heating blanket, air pillow, air pump, silver floor mat, heater, controller and arc stand.
| | |
| --- | --- |
| | |
| 1. | Take the dome sauna out from the carrying bag and inflate the pillow. |
| | |
| 2. | Roll the dome sauna smoothly. |
| | |
| 3. | Fix the belts onto the left and right side of the arc stand. |
| | |
| 4. | The dome sauna is ready to be use. |
| | |
Technical Data
Model
FIR Dome Sauna
Size of cover
75 x 48(h) x 180cm
Heating blanket Size
100*65cm
Heater
15.8 x 19(h) x 24.5cm
Size of Floor Mat
900 x 197cm
Size of bag
88 x 50(h) x 25cm (complete)
Voltage
DS-689FA

AC 220-240V,
50/60HZ

Power
1000Q
DS-689FB
AC 100-120V, 50/60HZ
Power Cord
Plug to controller: 250 cm
Controller to radiator: 250cm
Weight
9.5kg